Upcoming Workshops
Welcome to the Chenango Arts Council's Workshops!
Please click on the event in the calendar below to register. Please call 607-336-2787 if you have questions, or any difficulty with registration.
Thank you - and ENJOY!
DYI Watercolor with Matt Wilson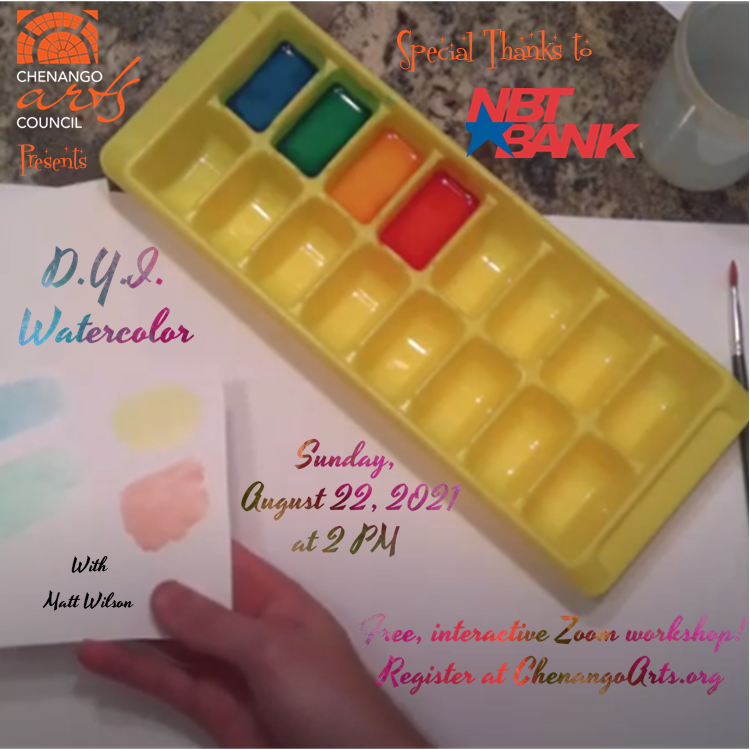 Sunday, August 22 at 2pm, Instructor Matt Wilson teaches you to make a watercolor landscape from scratch! Learn to make watercolors from household items. Class will go over how to make and then create a landscape using homemade watercolors. Participants should have Small Paint Brush, a couple sheets of white paper (drawing or watercolor preferred) small bowls or palette, Baking soda, corn syrup, white vinegar, corn starch, food-coloring dye, and various spices. Register at ChenangoArts.org for this free, interactive ZOOM workshop. Special thanks to NBT Bank for making this a free event.