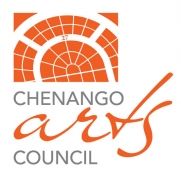 Chenango Arts Council Gallery Program
What is it?  The Chenango Arts Council is pleased to offer educational exhibits, a juried Student Art Show and our  members' latest work every year.  However, membership is not required to show in our gallery.  We are always  on the lookout for artists  of all mediums and at all levels of exposure and experience to introduce to the Chenango region.   Requests for Proposals are accepted and reviewed all year long to put together the best possible next gallery season.  Should your work be accepted, we will work together to schedule a two week show that begins with an Opening Reception and will be outlined in a Exhibitors Agreement  between the Arts Council and yourself. 
What we need from you: 
· Your resume and artist statement detailing the concept behind your proposed exhibit
· Eight numbered digital images of pieces you would put in the show
· A corresponding numerical list of the titles, mediums, sizes and dates of these examples
After Selection:
· Your signed Exhibitor Agreement
· The title and a description of your show
· Digital imagery you would like used for posters, postcards and promotion
· A complete numbered list of the pieces you are showing and their prices
What you get from us:
· A marketing campaign complete with online promotion, mailers and posters at no cost to you
· Experienced gallery staff to assist you in hanging and de-installing your show
· A pristine  gallery with 71 feet of wall space and 371 feet of floor space, with an additional 51 feet of wall space and 210 feet of floor space in the loft
· Security!  Chenango Arts Council carries fire, smoke and theft insurance and is fully alarmed
· An opening reception complete with food and wine provide by Chenango Arts Council
· Gallery staff to guide the public through your exhibit during regular business hours and by appointment
·  We handle invoicing, payment and sales tax for all sales related to the show.  Chenango Arts Council collects a 25% commission for this.
Email your proposal to info@chenangoarts.org or call 607-336-ARTS for more information.  We can't wait to work with you to create an amazing exhibit!