Take Better Photos in 4 Steps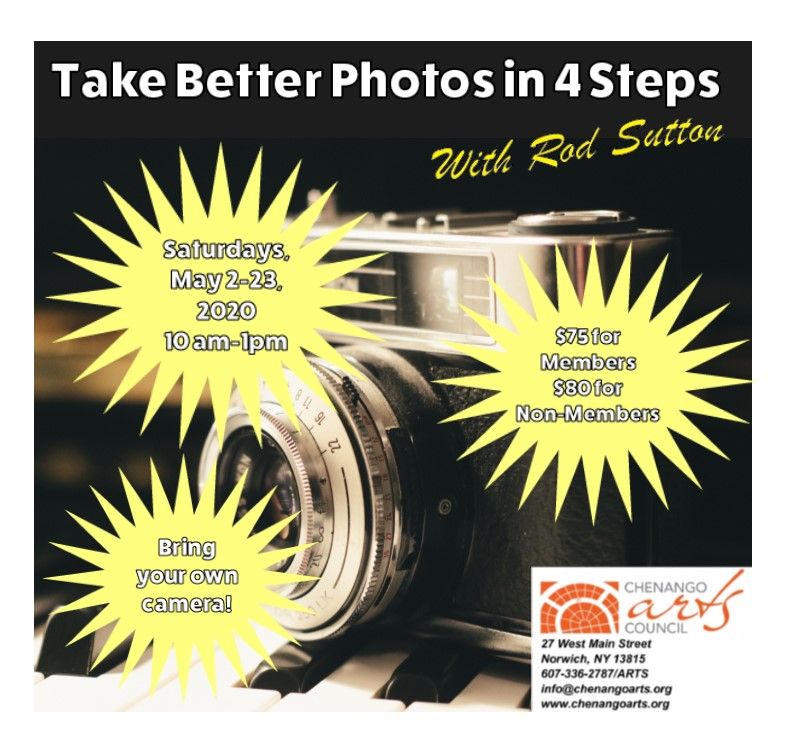 Photography has gone through many phases from glass plates to film, automatic cameras, and an ongoing evolution of change in digital imaging.
This series of four classes will help you create better photographic images. The classes will cover camera functions and operations, lens characteristics and creative applications, equipment selection, color theory, and final image adjustment and preparation for print and online use.
The first class will help you with the functions of your camera and provide some instruction in shooting technique. This class will cover basic camera operations and how to access and use them on your camera. Please bring your camera and camera manual (CD, DVD, or printed) with you.
The second class will cover basic photographic skills and techniques. Topics will include: lens selection and use, exposure determination, camera menu setup, basic digital imaging formats and selection, and digital imaging components and considerations.
The third class will explore the characteristics of a good photograph; as well as, things that should be avoided. Topics will include: photographic composition, use of color and contrast, creative use of light, and interpretation of in camera histograms.
The final class will cover digital editing software applications and tools, image manipulation and retouching prior to final image formatting for print and web. Specific topics will include: determining correct image resolution, digital image sharpening, color calibration and selection, and configuration of appropriate file formats.