Performance
2016-2017 Season
2016-2017 SEASON SCHEDULE
TICKETS ON SALE SOON!
---
"Swingin' with the Rat Pack" Saturday October 17, 2016 7pm
When Frank Sinatra, Dean Martin and Sammy Davis Jr. hit the stage, it was always a "swingin affair"! These enormously talented entertainers, known as "The Rat Pack", were the coolest cats to ever play Las Vegas…or anywhere for that matter!
Now, three skilled New York actors are bringing the songs, the laughs and the charisma of Frank, Dean and Sammy back to life in "Swinging with THE RAT PACK!"
This trio of professionals is highly skilled in improvisation and live interactive performance. When they perform, they not only capture the look and sound of Frank, Dean and Sammy, but their irresistible charm and chemistry as well!
Just like the original Rat Pack, the show is completely spontaneous and full of ad-libs…making it a must see…over and over again!
"Luck be a Lady", "That's Amore", "The Lady is a Tramp" and "Candy Man" are just some of the timeless classics you'll enjoy during the show along with a whole lotta ring-a-ding-ding!
---
"Christmas with the Celts" Saturday December 17, 2016 7pm
"First there was Riverdance, then Celtic Woman, and now the popular PBS pledge show Christmas with the Celts is touring across America."
Kevin Crane, PBS
The high-stepping spirited musical selections have audiences clapping along from the first lively renditions of popular contemporary Christmas classics: 'God Rest Ye Merry Gentlemen', 'Little Drummer Boy', 'Santa Claus is Coming to Town'; also 'Count Your Blessings', 'White Christmas' and John Lennon's perennial 'Happy Christmas'. The show presents a perfect combination of modern Christmas hits, lively Irish Carols, hilarious spontaneous humor, thrilling Irish dancing, a children's choir and lush string arrangements giving audiences a most memorable interactive Christmas experience.
The Celts lineup stars, Ric Blair on vocal-guitar-bodhran & piano along with the lovely Laura McGhee from Dundee Scotland on vocal and fiddle complemented by an array of top-flight musicians on uilleann pipes, Irish whistles, bass, drums and of course the crowd pleasing Irish dancers.
Christmas with The Celts isn't just a concert; it is a celebration of the holiday spirit, people, community and common connections. It's about bringing young and old togetherto celebrate this special time of year. Show producer Ric Blair says, "You can't listen to Celtic music and not be happy. It is a music of the people. I think that is why this unique melding of modern Christmas hits and organic Celtic instrumentation continues to resonate and grow in popularity every year with audiences around the world."
---
"Galumpha" Saturday March 18, 2017 7pm
Combining stunning acrobatics, striking visual effects, physical comedy and inventive choreography, Galumpha brings to life a world of imagination, beauty, muscle and merriment. The three performers create a sensory feast of images ranging from the ridiculous to the sublime, drawn together into a seamless whole, consistently bringing audiences to their feet. Galumpha is a triumphant mix of art and entertainment, offering world-class, award winning choreography (Edinburgh Festival Critics' Choice Award, Moers International Comedy Arts Prize) that is equally at home on the concert stage, at a comedy club or at an outdoor festival.

Formed in 2002 by Andy Horowitz and Greg O'Brien, Galumpha delivers a fast-paced, athletic brand of movement, distinctive for its ingenuity. Highlights include "Velcro" as seen on The Late Show with David Letterman, Crook and Chase (TNN) and the 2002 MDA Jerry Lewis Telethon, and "Clackers," seen on MTV, Showtime, A & E, Just for Laughs in Montreal, and by over one billion television viewers around the globe. Other pieces feature experiments in human architecture set to music by Rachmaninov, Mahler and the virtuoso Czech band Jablkon, making for an exceptionally entertaining program.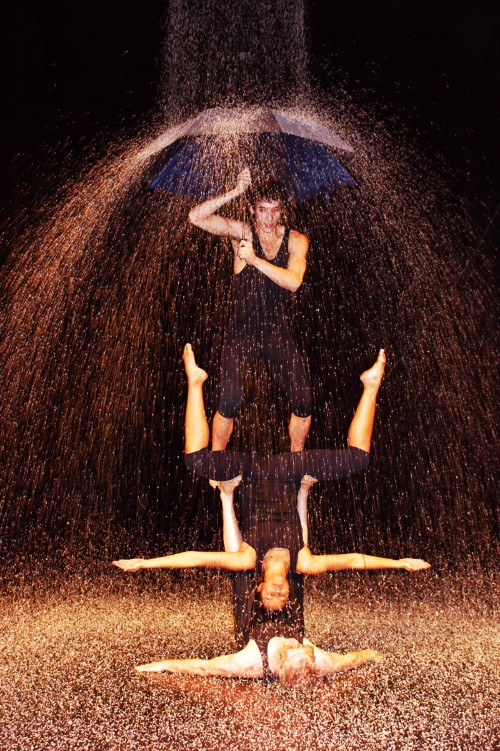 ---
"The Chocolate War" Sunday April 9, 2017 2pm
The Open Hand Theater of Syracuse New York presents "The Chocolate War"
Springer and Sprong, two inseparable pals, tumble into a series of haphazard events that lead to a catastrophic quarrel. The puppets become larger and larger as the conflict grows, acting as a visual metaphor that children can readily understand. Only by working together is their friendship restored.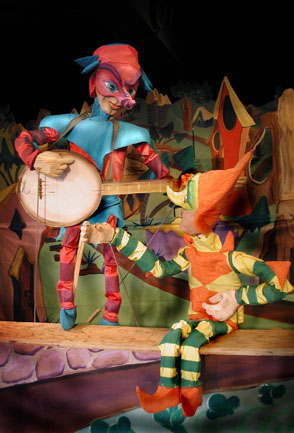 ---
Saturday May 6, 2017