Performance
2017-2018 Season
---
Matt Nakoa live from the Kappel Theater
 Saturday, September 23, 2017 || 7 p.m.
MATT NAKOA is an internationally touring singer/songwriter, recently appearing at The White House, throughout India, and regularly with folk icon Tom Rush. Growing up on a small goat farm in rural NY State, Matt discovered music as a means of teenage escape and trained to be a concert pianist. Matt was ultimately accepted as a vocalist to Berklee College of Music where he studied alongside soon-to-be Grammy winners St. Vincent and Esperanza Spalding among others. After school, Matt landed in NYC's vibrant piano bar scene. There he quickly became a star performer at Manhattan's famous Brandy's Piano Bar, with lines waiting outside the door each Saturday night.
As if illustrating two sides of himself, Matt's first album, Light In The Dark (2012), is a sweeping pop opus, while A Dozen Other Loves (2014) explores an intimate acoustic palette. Across the board his song craft has garnered awards, including a win at Kerrville Folk Festival's prestigious New Folk Competition. Though not easily pinned down, "In sum," as a recent review on CoverLayDown.com put it, "Matt Nakoa is a musical adept, one of those well kept secrets you just can't help but celebrate: intimate and genuine, soulful and bittersweet, a rich poetic songbook sung in praise to a complicated, emotionally present world."
---
Carol of the King: the Irish Dance Spectacular
Saturday, December 2, 2017 || 7 p.m.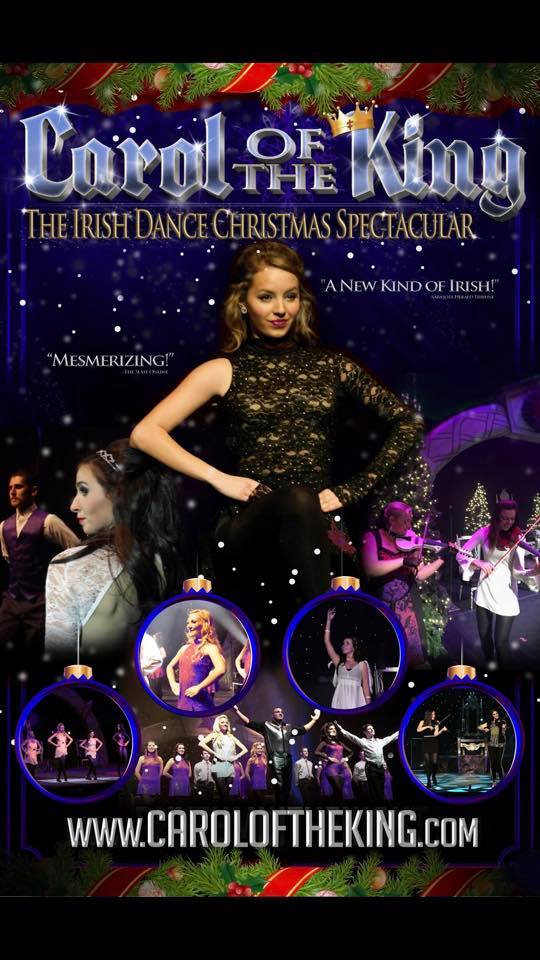 Winter has fallen across the land. King Solomon and his kingdom prepare for the Christmas season celebration. While cold winds caress the landscape, one gust brought an unearthly chill not felt before. The dark sorceress Circe and her ghostly legion known as The Frost are upon the land. She has trapped the legendary King Solomon under her spell in an attempt to steal the throne and expel Christmas once and for all. Unable to free himself and carry forth the holiday spirit, hope remains lost for all those in the kingdom...until now. 

In a brave effort to rescue their king and preserve the spirit of the season, the kingdom has called upon Solomon's loving companion Brighid, his younger brother Aidan and the Guardians to restore harmony to the land. With the frigid forces attempting to break the will of the crown and banish Christmas for eternity, will darkness reign or will victory be seized from Circe's icy grip in the legend that has come to be known as Carol of the King.
---
An Evening with Groucho
Saturday, March 3, 2018 || 7 p.m.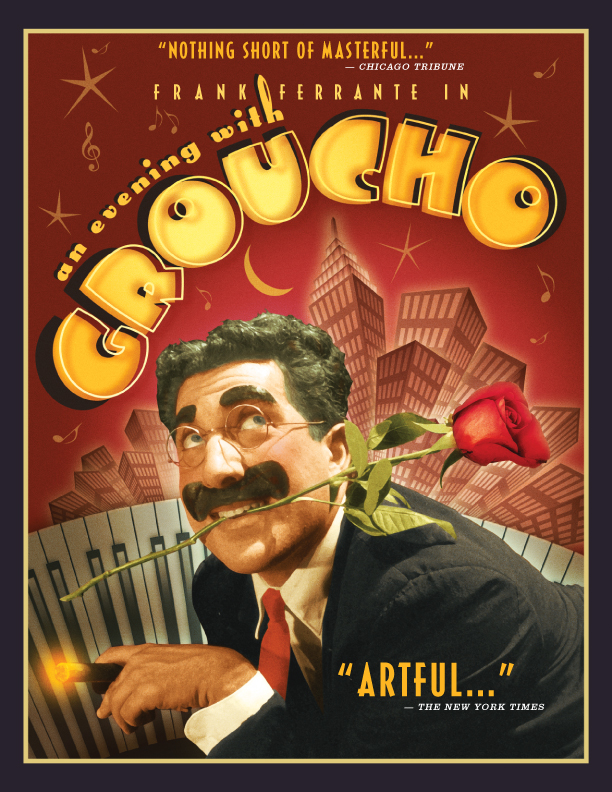 Frank Ferrante - (Groucho) is an actor, director, and producer described by The New York Times as "the greatest living interpreter of Groucho Marx's material." Animal Crackers and A Night at the Opera co-author Morrie Ryskind called him "the only actor aside from Groucho who delivered my lines as they were intended." Discovered by Groucho's son Arthur when Frank was a drama student at the University of Southern California, Frank originated the off-Broadway title role in Groucho: A Life in Revue (written by Arthur) portraying the comedian from age 15 to 85. 
In 2001, Frank starred in, directed and produced the national PBS television program Groucho: A Life in Revue. Frank currently stars as the comic lead in the European cirque Teatro Zinzanni in San Francisco and Seattle. This year he became a question on the classic TV program Jeopardy. "He took his portrayal of Groucho Marx to New York in 1986." The answer: "Who is Frank Ferrante?  For more information on Frank Ferrante's Groucho, log on to www.grouchoworld.com.
---
Binghamton Philharmonic: Link Up!
Saturday April 7, 2018 || 7 p.m.

ABOUT LINK UP
Link Up, a program of Carnegie Hall's Weill Music Institute, guides students and teachers in grades 3-5 through a year-long exploration of orchestral repertoire. Students will sing or play recorder instruments while learning basic musical concepts and composing their own music. Linking the classroom to the concert hall, this program provides extensive standards-based teacher and student materials, and culminates in an interactive orchestral concert in which students sing or play soprano recorder from their seats.
---
2018 CATS - Chenango Arts Talent Showcase
Saturday, May 5, 2018 || 7 p.m.