Previously known as the Chenango County Council of the Arts, we are now entering our 40th year as a cultural service provider located in Norwich, NY. In 2014, the Council allocated $112,500 in cultural funding to Broome, Chenango and Otsego County non profit organizations, artists and schools. Visit the Grants tab above for more information on funding opportunities, including this year's recipients, and visit all areas of our website to find out more about our other programs and services!
For information on classes, or to register, visit the Gallery tab at the top menu and scroll to the "Sign Up for Classes" link!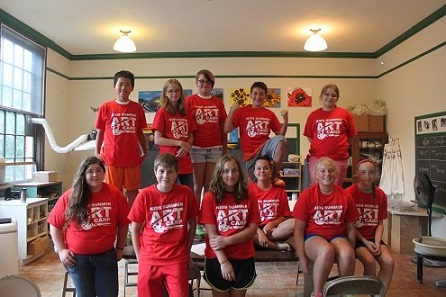 See a clip of our teaching artist Matthew Wilson featured on the July 7th, 2013 PBS 'Artist Café': http://www.youtube.com/watch?v=0N1LqRSQrYQ&feature=youtu.be
With your help, we can continue to provide opportunities for the artists and art lovers of today and tomorrow alike.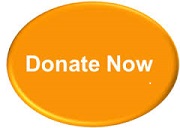 IMPORTANT INFORMATION FOR NON PROFITS
March 27, 2014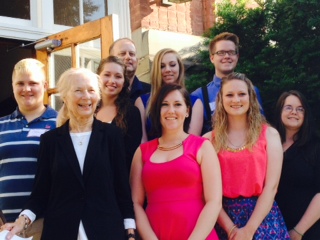 27 West Main Street
Norwich, NY 13815

Phone(607) 336-2787
E-mailinfo@chenangoarts.org
We welcome your visit to the Arts Council and Gallery! Due to the many on and off site programs we run, we recommend you call prior to your visit to make sure we can accomodate you.
The Arts Council will be closed on Monday, September 1, 2014 to observe Labor Day.
We will re-open on Tuesday, September 2.
To ensure e-mails from the CAC are not marked as SPAM, please add us to your contacts or safe sender list!
Visit us at: http://www.swelby.com/chenangoarts

On behalf of the Board of Directors, we are excited to announce that Diane Batson-Smith will join the Chenango Arts Council as the Executive Director effective July 1, 2014. With the decision of our current Executive Director, Victoria Kappel, to begin a new life journey earlier this year, our Board immediately engaged a committee of Board and Community Members to undertake the daunting task of seeking her successor. This Selection Committee undertook an extensive local and nationwide search and we were privileged to have many qualified candidates apply for the position, making our decision a difficult one. With the selection of Diane, we are excited about the possibilities for the future of our organization.
Diane has enjoyed a varied career in the arts starting with her formation of a repertory company in Roanoke, Virginia, to receiving a variety of Emmys and Academy Awards for Hollywood motion picture studios, and as an independent film producer. She was the Senior Producer and Project Supervisor for Dreamworks SKG, a Project Director and Producer for Home Box Office, a studio executive for Walt Disney Productions, and a Co-Producer for Paramount Pictures.
Prior to joining the Chenango Arts Council, Diane held many positions at arts organizations in New York City. As the Executive Director for Kennedy Center Honoree Martina Arroyo's foundation, she managed strategic planning, fundraising, and accelerated the foundation's financial capacity to twice its original size. As the manager of season sales and patron giving for Carnegie Hall, American Ballet Theatre, NY Philharmonic, and Jazz at Lincoln Center, she increased overall donations by more than twenty percent annually.
During her time as the Executive Director of the Arts and Heritage Development Council (AHDC) in Tennessee, Diane revived the council's financial and strategic operations while working as the designated agent for The Tennessee Arts Commission's: Underserved Communities and Arts Builds Communities initiatives. Her work with the AHDC encompassed her facilitation of streamlined grant procedures, oversight of state regulatory funding procedures, and interfacing as the regional director for fair arts use opportunities, and public arts programs throughout Middle Tennessee. In tandem with the Customs House Museum, she curated Student Exhibits and was responsible for five annual programs for the Parks and Recreation Department of Middle Tennessee. She developed the overall strategy for the organization and defined its priorities with a staff of three, a twelve member executive board, consultants, and state and citywide partners.
Before joining The Arts and Heritage Foundation of Tennessee in 2004, Diane served in several capacities on the staffs of regional colleges where she taught courses on the creative culture of business, filmmaking, finance, and arts management.
Diane has been an exhibiting artist for over fifteen years, a producer and a steering committee member for The Nashville Film Festival, The Nashville Jewish Film Festival, The LA Directors Guild Student Film Competition Awards, The New York Digital Film Festival, and an originating producer of Visualizations Gallery in Manhattan which designed the first instillation of video artists-- including Nam June Pike. She has created literary programs and coalitions for emerging female writers in poetry and playwriting. Diane has a BA in graphic design and illustration, a BA in Theater and English from Hollins Women's College, a Master of Fine Arts degree from New York University's Tisch School of the Arts Graduate Film Division, and is certified in Conflict Resolution and Mediation from New York University Law School.
Over the next few months, we will have opportunities for you to meet with Diane. Please join us in welcoming her to the Chenango Arts Council!
Sincerely,
Lisa A. Natoli, Esq., President, Board of Directors
Dominic F. Shea, Chair, Selection Committee