Check out our new Community Calendar located under the "Get Involved" tab!
For information on all available classes, or to register, visit the Gallery tab at the top menu and scroll to the "Sign Up for Classes" link!
                            VISUAL ARTS PROGRAM
                       REQUEST FOR PROPOSALS
The CAC is seeking artists to apply for exhibition in the Mariea Brown and Raymond Loft Galleries.
The proposal deadline is January 6th, 2016, with the jurying process occurring in mid-January for exhibition in the following year.
There is no fee for submission, and and CAC staff is available for technical assistance with the application process.
Please view submission guidelines by clicking here: 
Visual Arts Program RPF Guidelines
 
                   CALL FOR ARTISTS
                        The Chenango Arts Council Invites Artists Entries for:
Public Arts Initiative (PAI):  The PAI was created to present an inviting and welcoming image of our community as a destination place by bringing the arts to the public in everyday life.  Public art enriches the areas where we live, work and play, thereby increasing business, encouraging tourism and reducing unsightly or vacant areas. The PAI will support and showcase local area talent and give artists greater exposure for their work. Click on the above link for entry information.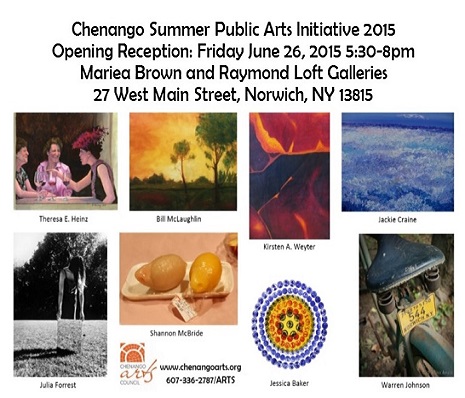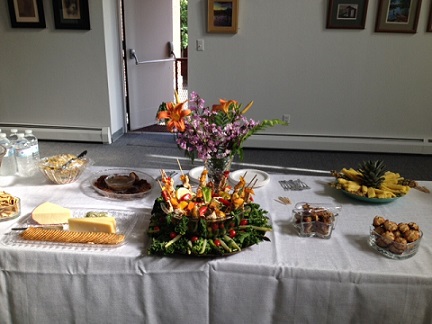 Previously known as the Chenango County Council of the Arts, the Chenango Arts Council is now celebrating its 40th year as a regional cultural service provider located in Norwich, NY. 
In 2015, the Council will allocate $115,860 in cultural funding to Broome, Chenango and Otsego county non profit organizations, artists and schools.  We invite you to visit the Grants tab above for information on the Grants for Teachers Program and our Decentralization Arts Education & Community Arts grant opportunities.  
Please visit the rest of our website to find out more about our Performance and Gallery Series, Film Society, Public Art Initiatives, membership and other programs and services!
With your help, we can continue to provide opportunities for the artists and art lovers of today and tomorrow alike.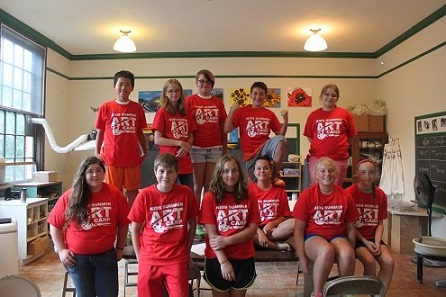 2015 KIDS SUMMER ART CAMP
                                    July 27 - August 14, 2015
                                       IN PROGRESS NOW
Scholarships for painting sessions available and provided by Golden Artist Colors!  Call the CAC for more information.
The 2015 Kids Summer Arts Camp is presented by the CAC and Wilson Ceramics.
Sessions include drawing, painting, mixed media and ceramics.
For class sessions, fees and registration information, view:
2015 Kids Summer Art Camp Brochure
The 2015 Kids Summer Art Camp is sponsored by Golden Artist Colors and Chobani.
27 West Main Street
Norwich, NY 13815

Phone (607) 336-2787
E-mail info@chenangoarts.org
We welcome your visit to the Arts Council and Gallery!
Due to the many on and off site programs we run, we recommend you call prior to your visit to make sure we can accommodate you.
To ensure e-mails from the CAC are not marked as SPAM, please add us to your contacts or safe sender list!
Like us on Facebook!
Visit us at: http://www.swelby.com/chenangoarts
For other area events, visit:
www.ChenangoToGo.com