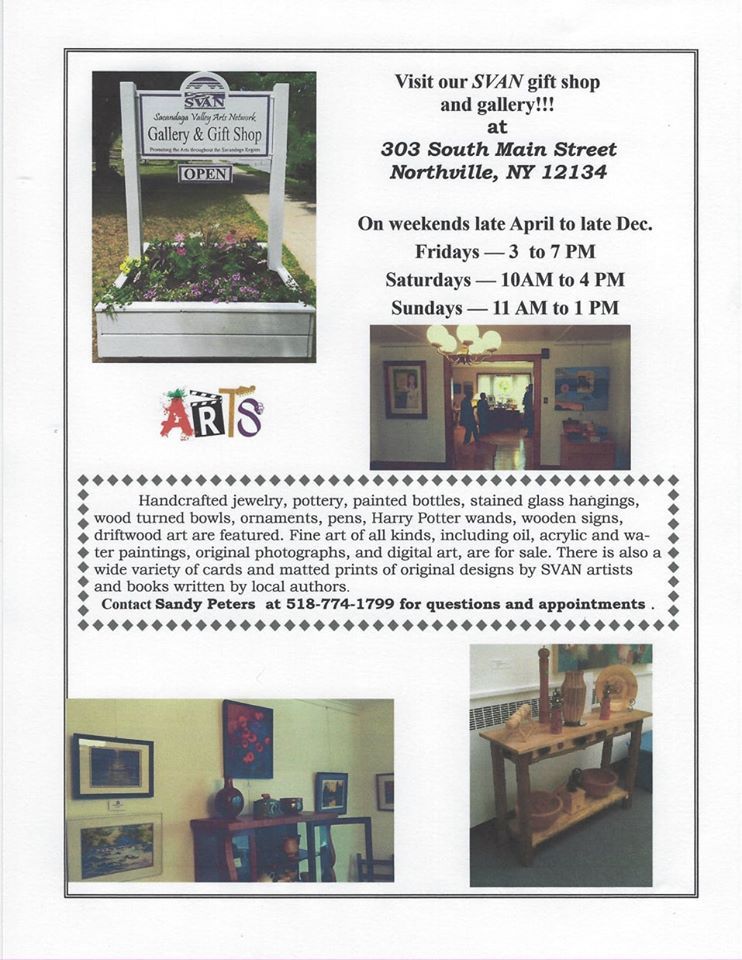 Call to Art: 2020 Exhibitions at SVAN - Fine Art in the Sacandaga Valley Arts Network Northville Library Gallery

The Sacandaga Valley Arts Network (SVAN) is seeking visual artists (including 2d and 3d artists, artisans, and photographers) with cohesive works and thematic collections for the 2020 rotations of small group and solo exhibitions at the Northville Library Gallery, 341 South 3rd Street, Northville, NY. Artists from the locations served by SVAN or exhibitions focused on these areas will be given absolute preference in the selection process. More information at www.svanarts.org/arts.html.

SVAN is a non-for-profit serving the communities which lie all or mostly within the Sacandaga watershed in the south-central Adirondacks. Included in this region are the communities within the Sacandaga watershed portion of Fulton, Hamilton, Saratoga and Warren counties that include the communities of Arietta, Benson, Bleeker, Broadalbin, Day, Edinburg, Hadley, Hope, Lake Luzerne, Lake Pleasant, Mayfield, North Hampton, Northville, Piseco, Providence, Speculator, Wells, as well as Johnstown, Gloversville and Vail Mills, New York.
To apply for exhibition, email the gallery coordinator, janene@silentjanesalvage.com.

Please include:

° "SVAN GALLERY" in the subject line.

° The expiration date of your SVAN membership. Online membership is available at www.svanarts.org/membership.html.

° 3-10 examples of your work in high-resolution jpeg format. Images should be professional quality and between 1-3mb per image.
Name each image in the following format: Artist last name_Artist first name_Art title_Art media_Art size_Frame size_Art price.

° Your current artists' resume.

° A 100-word maximum artist statement.

° In response to your email, you will be emailed a blank contract. This must be completed and returned for your application to be completed.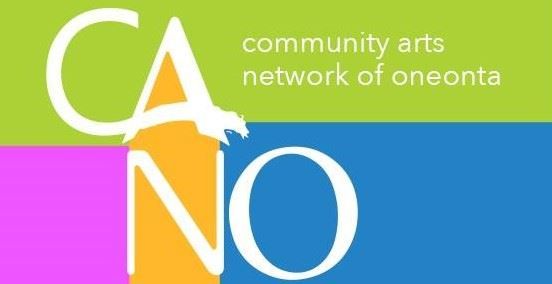 CANO's 2020 - 2021 Call for Artists is now open!
Application Deadline: January 15th, 2020

Exhibit your artwork at CANO! This is a Juried Open Call for Exhibition Proposals. Artists may propose solo or group exhibitions. All media, themes, & styles will be considered. Exhibit your work in one or more of the three galleries of CANO's historic Wilber Mansion located at 11 Ford Ave Oneonta NY. Each exhibit opens with an artist reception open to the public.

Send 5-10 images of recent work with a list of images, an Exhibition Proposal, and an Artist Statement. Email subject should be "CANO Open Call – (your name)". Images should be titled numerically followed by artist's initials, ie: 1-jfk, 2-jfk, etc.

For more info and to apply online visit http://www.canoneonta.org/exhibits/call-for-artists/

Email questions to: exhibitions@canoneonta.org

Application fee for members: $15
Fee for non-members: $25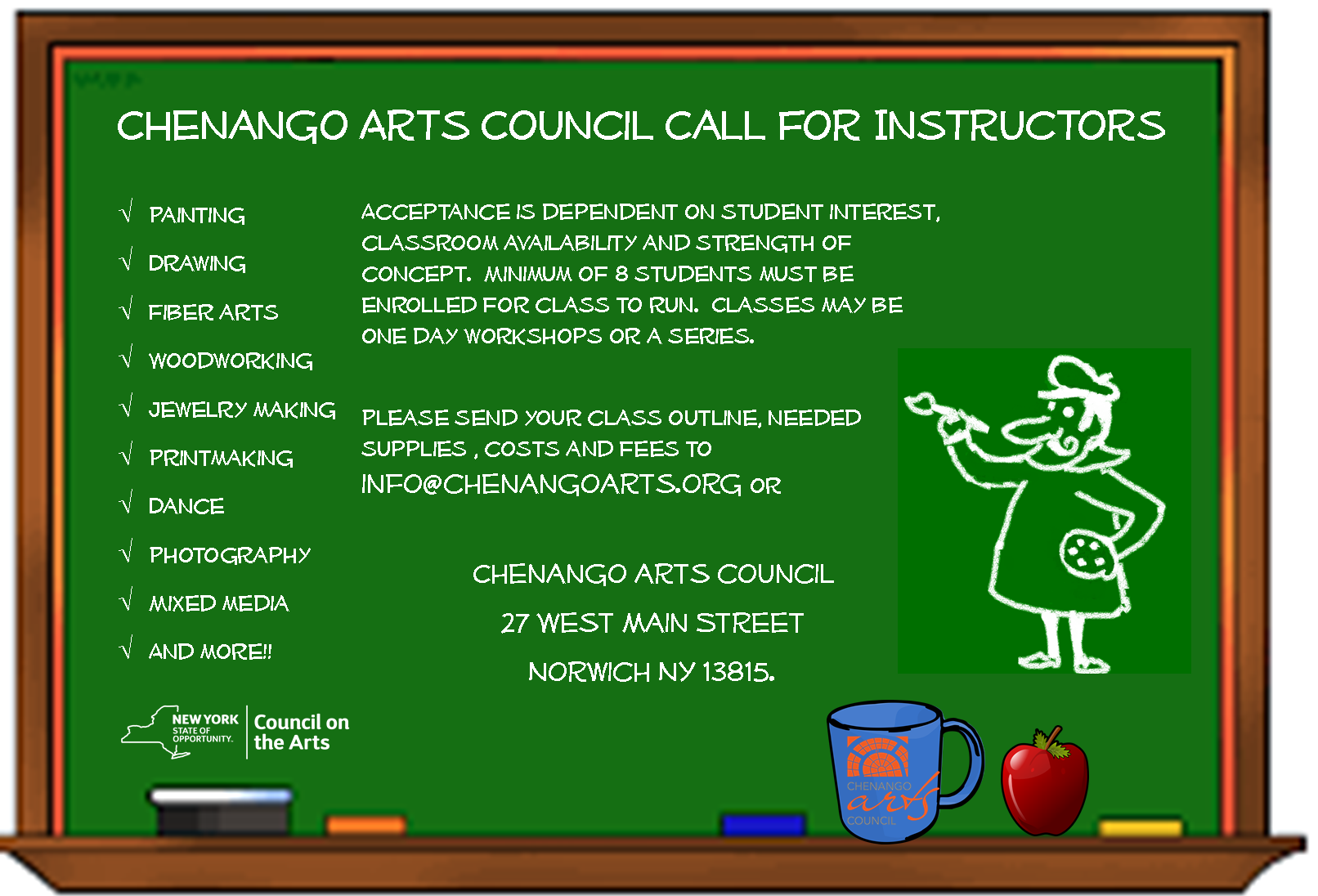 CALL FOR ARTISTS
Jericho Arts Council Regatta Row 2020 April 22 to May 23 The Jericho Arts Council (JAC) of Bainbridge is looking to sponsor 20 juried Artists for a month long, sidewalk exhibition of art. For the 6​th​ year, Artists will express their creativity, on unique Adirondack "​Canoe Paddle Chairs" or upon petite child sized versions of the chairs. This year the theme is "Sunrise/Sunset" and diverse interpretations are welcome!
JAC will provide artists with the chairs, paint (Golden Artist Colors has generously donated their exceptional paints in the past) and a stipend of $125 for the adult chairs and $75 for the Children's chairs. Cash awards of $50 to $100 will be granted in 5 categories. Artists will be promoted with bio's on the JAC website as well as in a media conference, regional press releases, posters, social media and on maps of the Art Trail. For a month, photos of each piece of art will be posted on the website along with the opportunity for bidding in advance of the Live Auction to take place on Sat, May 23 at the General Clinton Canoe Regatta.
The art will be displayed on Bainbridge sidewalks from April 22 till Memorial Day weekend. Bainbridge, like dozens of other Towns and villages in this area, is attempting a grass roots revitalization of the community and this is one of the efforts to support the JAC. Proceeds from the May 23 Art Auction will go to the Jericho Arts Council to support our Artists & Musicians and to create future events.
While the artist's finished work will be on display for a month, the ​Regatta Row Street Art Fest​ ​is ONE afternoon only, Sat. May 16 from noon to 3.​ The fun starts at Bainbridge Town Hall (15 N Main St.) with an award ceremony, followed by the noon opening. (Rain? We all move into Town Hall Theatre, Gallery, Lobby and various businesses). Artists will be meeting the public (about 300 attended last year) near their Art. With the music of 25+ street musicians filling the air, local merchant participation, the art being inspirational and the attendees surprised by the generous spirit of all, it will be a unique and very sweet day…
This is a heartfelt, family festival, based on the volunteerism of the artistic community. Artists are encouraged to promote their talent and to distribute cards or advertisements.
Apply today! If you want to participate or pass this invite on to others who may be interested, please do! Save the Date – May 16 to bring out friends, family and fans for the fun! The Auction, at General Clinton Park Regatta on May 23 is always exciting. Please share this adventure with your social media postings!
Artist applications and details are online at: ​www.jerichoarts.com​. Questions and applications can be directed to the JAC Gallery Committee "Regatta Row 2020" at ​jacarttrail@gmail.com​ or by calling Rachel Hares at 607-643-2211, or Nancy Kitchen at 908-347-0091.