The Gallery
Gallery Series
Chenango Summer Public Art Initiative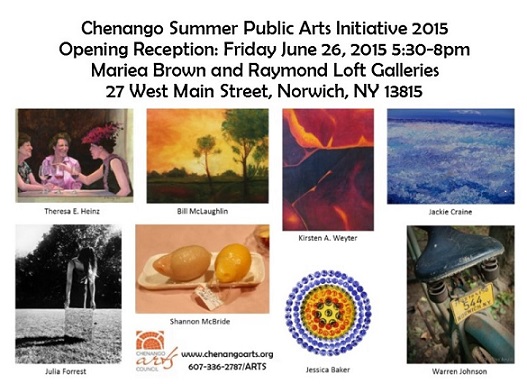 Chenango Public Art Initiative, Summer 2105
June 26 - August 28, 2015
Mariea Brown and Raymond Loft Galleries
27 West Main Street, Norwich, NY 13815
The Gallery is available for viewing Monday through Friday from 9am to 5pm – please stop at the main office and we will open the Gallery for you.
Artists on display:
Jessica Baker
Jackie Craine
Paula Friedman
Theresa E. Heinz
Warren Johnson
Shannon McBride
Bill McLaughlin
Kirsten A. Weyter
Public Arts Initiative (PAI): The PAI was created to present an inviting and welcoming image of our community as a destination place by bringing the arts to the public in everyday life. Public art enriches the areas where we live, work and play, thereby increasing business, encouraging tourism and reducing unsightly or vacant areas. The PAI will support and showcase local area talent and give artists greater exposure for their work.
Opening reception:  Friday, June 26th from 5:30-7pm.

Gallery Opening and Exhibits are always free and open to the public.