The Gallery
Sign up for Classes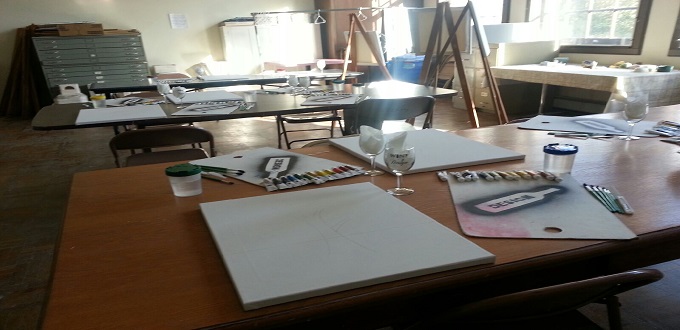 WINE & DESIGN 
Friday, February 6th, 6-8:30pm
Theme:  Colorful Owl, It'll be a Hoot!!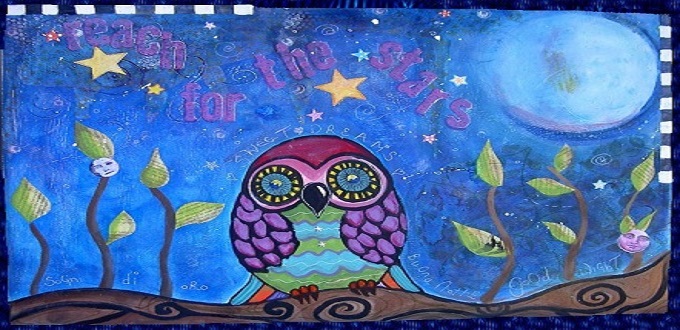 $35 member fee- $45 non-member fee
Price includes workshop instruction, paint, palette, brushes and canvas.
Bring your favorite bottle of wine!
Registration and payment due by January 30, 2015
Wine & Design is a painting workshop for any level artist. No experience is necessary. The course is step by step how to paint while enjoying your favorite wine. Call the Council at (607)336-2787/ARTS to register.
Max. class size: 10. Must be 21+ to register
To set up a Wine & Design party (private class of 10), contact the office.
Paint for WINE & DESIGN generously donated by Golden Artist Colors.
These workshops are taught by Matthew Wilson, current Norwich Middle School art teacher and practicing local artist. He is the owner of Wilson Ceramics and teaches numerous courses at the Council. Visit his website at www.WilsonCeramics.com.
YOGA WORKSHOPS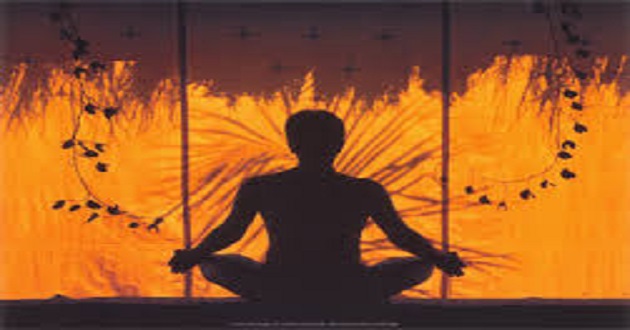 The Chenango Arts Council and Universal Prana, Inc. are pleased to offer an exciting yoga workshop!
Yoga strengthens & stabilizes the body.  Posture is improved & balance is brought back to the body by identifying & correcting the imbalance through mindful movements.  Yoga breathing techniques enhance endurance, awareness & breath control, which allow you to remain calm & focused. 
On Sunday, February 15th, 2015, the workshop Connecting, Listening, Relearning to be Open! takes place from 1:30-4pm
In Connecting, Listening, Relearning to be Open! we will focus on learning to listen deeply through Thai Yoga Bodywork and Partner Yoga.  Partner yoga is the art of using each other's body weight, strength and breath to open our bodies in new ways, releasing habitual patterns of tension in the body held.  Through partner yoga and loving touch we learn to let go of fear and pain.  This fun, noncompetitive workshop is designed to build trust, communication, joy, and intimacy through the power of compassionate touch. Both experienced yoga students and beginners are welcome. Absolutely no experience with yoga is necessary. This is a partner workshop, bring a friend, relative, or loved one.  The fee is $40 per person for non-CAC members and $36 per person for CAC members. Registration and payment are due by February 14th, and a minimum of 8 participants needed for the class to run.
Classes are held on the CAC's Martin W. Kappel Theater stage, 27 West Main Street, Norwich.  Please call the Council at (607)336-2787/ARTS to register.
Yoga is taught by Dawn Hahn of Universal Prana. Dawn is a Certified Yoga Teacher and Advanced Thai Yoga Practitioner.  She is also a Reiki Master and natural healer.  She has had extensive training in the energy healing system, chakra system, yogic scripture and philosophy, yoga postures and alignment, anatomy & physiology, breath work, and mediation & relaxation techniques.  She is a compassionate soul, dedicated to helping people make leaps of growth through listening, using her training and gifts.  Dawn is a Registered Teacher with the Yoga Alliance. Come and join us and relax!!!
2014 ADVANCED ART SUMMER CAMP - IN PARTNERSHIP WITH WILSON CERAMICS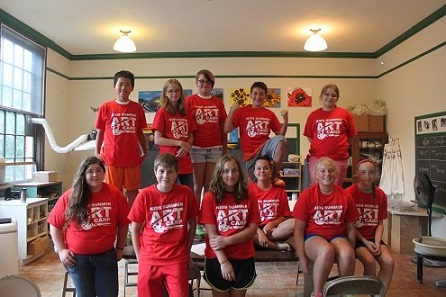 The 2014 Advanced Art Summer Camp took place from July 28 - August 15.
Watch for 2015 information to enroll your student for next summer's sessions!!
You can view the below links to see the 2014 class offerings.
If you have a suggestion or idea for a class- give us a call!
The 2014 Advanced Art Summer Camp was sponsored by Golden Artist Colors, New York Pizzeria & Restaurant and Blue Ox Energy Products.